The value of the in-kind services provided by the City of Baltimore was, at no point, more obvious than during site preparation. Approximately $15,000 worth of heavy equipment for site preparation and testing was provided through the Department of Public Works - Bureau of Highways. Additionally, DPW provided 30 shovels, 20 paintbrushes, 5 picks, 2 wheelbarrows, whisk brooms, buckets and so on. The surveying department of the City surveyed and gridded the site and made a site map. The Department of Recreation and Parks cleaned the area and provided benches.
While the various departments and resources of the City were available to the program at no cost, cash was needed to pay salaries. Grants from the local Humanities Council, two local foundations, and the National Trust for Historic Preservation supplemented the cash secured from the City. The cash budget for the project amounted to approximately $60,000, with contributed in-kind services worth $75,000.
Local companies were given the opportunity to contribute to the program. Several hardware stores gave 30 Marshalltown trowels and a storage shed. A construction firm donated a typewriter and portable toilets. A public relations firm designed the flyer and brochure and a radio station printed them. Even the U.S. Army was helpful. They provided four MASH tents to cover the excavation and excavators.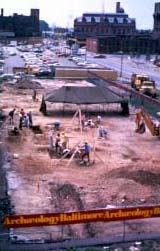 An aerial view of the site, showing the large banner in the foreground and a variety of contributions: heavy equipment from the city, tents from the Army, among others.